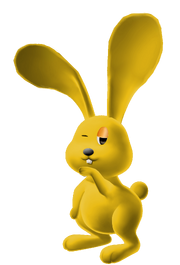 MIPS is a rabbit from
Super Mario 64
.
History
Super Mario Series
If you caught him, he would give you a power star.
He was unlockable in minigames, and had his own shop, Super MIPS.
He resides in the course Bunny Hole Burrows and has a giant family now. He'll still let Mario chase him for the Thunder Star, but he'll hand it off to his sons to keep it out of Mario's hands now.
Sketch Land Series
MIPS appeared with Star Bunny and Peter Rottentail as the bunnies needed to be freed from a Doodlecage.
Ad blocker interference detected!
Wikia is a free-to-use site that makes money from advertising. We have a modified experience for viewers using ad blockers

Wikia is not accessible if you've made further modifications. Remove the custom ad blocker rule(s) and the page will load as expected.