| | | |
| --- | --- | --- |
| | This article belongs to Lumoshi. If you do not have permission, please do not edit this page, other than correcting grammatical conventions and adding or changing categories. | |
Lumoshi's Cookies
is a series of games made by
Comet Gaming, Inc.
about the interests of the CEO, Lumoshi.
About
The games that have started production as of March 25, 2015 feature four teams of four characters each in a competition to do something. Of course, it varies from title to title. To see more about which game is about what, click the images below! The first two games of the series take place in spring and summer 2015, respectively.
The series takes place in a land known as Travak, centering around the interests of Lumoshi (t∣b∣c), and gameplay typically is centered around the idea of four teams competing to finish a task or collaborating to do so. The player can pick one character or team to follow throughout the games.
Installments

And...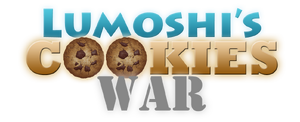 As well as this in 2016...

v • t • e

Finished projects
Mario Kart ULTIMATE

Active projects
Vigilance

Hiatus projects
Nicktoons Havoc


GearQuest
The Koopa Games
The Koopa Games II: Space Wars
Mario's Epic Journey
Mario Kart Comet
Mario Kart 9 (Comet Gaming)
Pokémon Mushroom and Koopa editions
Starship Crew
Lumoshi's Cookies
Lumoshi's Cookies: War
Super Mario Sunshine Comet
Zodiac Saga
Fantendo Smash Bros. Comet
Pokémon Comet and Asteroid versions
Voltaire's Adventures Through History
Avatar: Voyage of the Frozen Fortress


Abandoned projects
Mario's Minigame Land


Mario Sports Resort
New Super Mario Bros. ULTIMATE
Super Mario: Medieval Quest
Super Mario Sunshine 2: Return to Delfino
Super Mario: Panel Panic
Mario Kart Subterranean
Zuper Zario Zrothers Zxtreme
Mario and SpongeBob at the Olympic Winter Games
Super Harry Potter VS Mario X
Mario RPG: The Quest for Princess Peach
Mario Basketball ULTIMATE
Lumoshi Footwear Collection

Ad blocker interference detected!
Wikia is a free-to-use site that makes money from advertising. We have a modified experience for viewers using ad blockers

Wikia is not accessible if you've made further modifications. Remove the custom ad blocker rule(s) and the page will load as expected.