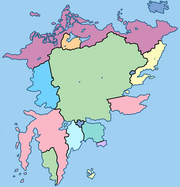 Lumilia is the largest and northernmost continent on the planet of Osiris. The continent is comprised of thirteen different territories, though almost half of its landmass is taken up by the country of Lumoshiland.
Countries of Lumilia
Faerania (partially)
An island territory east of Uliessa
Ad blocker interference detected!
Wikia is a free-to-use site that makes money from advertising. We have a modified experience for viewers using ad blockers

Wikia is not accessible if you've made further modifications. Remove the custom ad blocker rule(s) and the page will load as expected.