Peanut Productions


This game is made by Peanut Productions, and only the company can edit, unless permission is handed out. Unless, only grammar edits are allowed.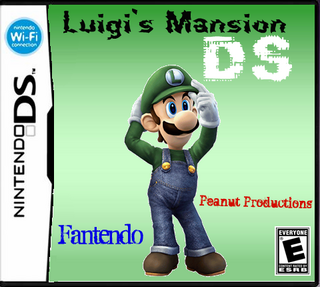 Luigi's Mansion DS (or "Luigi's Sequel") is the second installment in the Luigi's Mansion series created for the Nintendo DS as the title suggests and is rated E for Everyone. Its gameplay is similar to that of the first one but on the DS/DSi. You use the touch screen to do simple tasks such as picking up a key or opening a door. It is a 3-Dimensional "Ghostbusters-styled" platformer. This game features a whole new mansion bigger than the last. The game features Luigi, Mario's brother. Mario is kidnapped and Luigi has to save him by defeating all of the boss ghosts in the mansion and King Boo. It is a sequel to Luigi's Mansion, not a remake as Super Mario 64 DS was to Super Mario 64.
Ad blocker interference detected!
Wikia is a free-to-use site that makes money from advertising. We have a modified experience for viewers using ad blockers

Wikia is not accessible if you've made further modifications. Remove the custom ad blocker rule(s) and the page will load as expected.