Lucario
Comment

1
18,074pages on
this wiki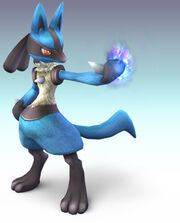 Lucario is a Generation IV species of Pokémon. Lucario evolve from Riolu if they are happy with their trainer during the Daytime. They are very rare Pokémon and can only be obtained via evolving a Riolu from a Pokémon Egg. They are very strong Pokémon and are always keen on battling loyally. They are very quick and agile, despite the fact that they are Steel Type Pokémon, however this could be from the fact that they are also Fighting Type Pokémon. All Lucario also have the amazing ability to sense and control a type of energy called aura, a Lucario that has mastered the power to control aura can sense the aura of a creature that is more than 100 miles away from it and even sense it's opponents next move before they've performed it. He was a playable character in the 2008 Wii game Super Smash Bros. Brawl.
Super Mario Bros.: Pokémon Odyssey Edit
Lucario will be an ally character in the upcoming Super Mario Bros.: Pokémon Odyssey. He was seen in an unnamed Forest, talking to Mario and Pikachu. He had a group of Riolu behind him, possibly his students. If this is true, it is most likely Lucario will be a dojo master, to help Mario with his fighting skills. However, this has not been confirmed. At first, it was believed he was a Boss character, but it was later confirmed he was an ally character.
Nintendo Stars:The BeginningEdit
Lucario is one of the many playable characters in Nintendo Stars: The Beginning. He will use moves such as the Wave Bomb. He and every other Pokémon (excluding Deoxys and MissingNo.) can be obtainable after Chapter 9. Being playable in this game means he will also be playable in Nintendo Stars:The Adventure and Nintendo Stars:The End.
Pokémon Iron and Amber
Edit
Lucario is a catchable Pokémon along with the other 491 species of Pokémon.
Pikachu's Final Destiny
Edit
Lucario appears as a decration shop keeper in Aroma Hill. He is renamed "Mr. Lucario".
Aura Collider
Edit
Lucario is a hidden character in Super Smash Bros. Collide. He is unlocked through Story Mode, where he is nicknamed Aura Collider.