"You've been through a lot lately, huh? Maybe you should take a little break for a while."

—
Lubba in Super Mario Galaxy 2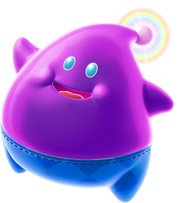 Lubba is a Luma who appears in Super Mario Galaxy 2 as an NPC and captain of the Starship Mario. He is a purple Luma and is also the leader of a group of Lumas, but is not to be confused with Rosalina's duty.
Lubba may appear in the upcoming game Rosalina and the Cosmic Spirit.
Friends
Apperances
Batter-Up Lubba
Lubba appears as a playable character in Mario's Batter-Up Baseball, and here are his stats:
Team name: None
Alternative colorations: None
Speed: 4/10
Batting: 3/10
Pitching: 5/10
Fielding: 6/10
Player 2 for Once
He appears in Stevie the Chain Chomp as a character for Player 2.
Lubba makes an appearance as a heavyweight racer in Mario Kart: Double Dash!! 3. His partner is Rosalina.