Ad blocker interference detected!
Wikia is a free-to-use site that makes money from advertising. We have a modified experience for viewers using ad blockers

Wikia is not accessible if you've made further modifications. Remove the custom ad blocker rule(s) and the page will load as expected.
Logan's Adventure is the debut game made by Cloud 9 Games! It feature's Cloud 9 Game's mascot, Logan, as he goes on adventures through out the galaxy of Steloturn! He must find and beat the evil Gloom Devonshire!
--------------------------------
Worlds
Hegriri (A rainforest area)
Kaynerth (A desert world)
Yeazuno (A china-esque area)
Thefalara (A Volcano world)
Qucilater (A crystal castle area)
---------------------------------------------------------------------------------------------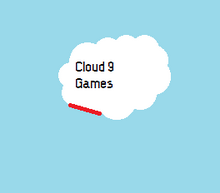 Bosses! (My personal favorite part)
Palmface (Boss of Hegrigri)
Pyratrap (Boss of Kaynerth)
Shogun Steel (Boss of Yeazuno)
Mt. An Gryh (Boss of Thefalara)
Gloom Devonshire (Boss of Quicilater)