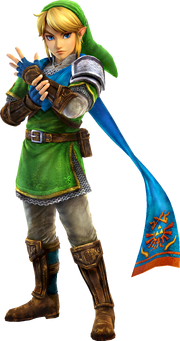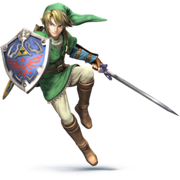 The hero of Hyrule, Link, is ready again to fight. He will appear like Hyrule Warriors as his first outfit but he can wear his classic outfit too! He is a Weapon Master character and his main elements are Iron and Fire.
Special Moves
Standard Special: Bow. Link shots an arrow with his bow and he inflicts 5% of damage.
Side special: Boomerang. Link now doesn't uses his Gale Boomerang but his "Classic" one is stronger: in fact inflicts 9% of damage.
Up special: Hook. Using his hook, Link can stick himself and he can direct the shot. It inflicts 7% of damage.
Down Special: Bomb. Link makes a bomb which inflicts 5% of damage.
Final Smash: Triforce Slash. Link paralyzes an opponent and inflicts 72% of damage.
Trivia
-Link is the best shooter in the game.
-Link is one of the main character in Story Mode along with Mario, Samus and Luigi.
Ad blocker interference detected!
Wikia is a free-to-use site that makes money from advertising. We have a modified experience for viewers using ad blockers

Wikia is not accessible if you've made further modifications. Remove the custom ad blocker rule(s) and the page will load as expected.