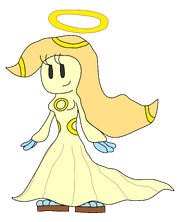 The Light type is one of the many fanon types made for the Pokémon franchise, and appears as a new type in a multitude of games (including Pokemon Sun & Moon Versions, Pokémon Alpha and Omega Versions, Pokémon Citrine and Olivine Versions, Pokémon Cobalt and Adamantite Versions, Pokémon Mighty & Nasty, Pokémon Mid and Out and Pokemon Light and Dark Versions, to name a few). The Light type is a fanon type that serves as an opposite type for the Dark type, and is also similar to the Fairy type, but does have a few differences.
Fanon Light type Pokémon appear to be prominently some sort of "holy" type, somewhat like the Fairy type but more serious and less cute. A good bunch of them are largely based on the concept of hope or good will. But sometimes, the Light type is taken too literally, being based on illumination instead. Rarely, both of these concepts are thrown into a Pokémon.
In some other games, it is also based on laws and freedom, as seen in Mighty and Nasty versions, and are not all good. There is even an usually evil Pokémon called Vitalight.
Many Light Pokémon based on animals are also good-hearted, a symbol of hope or something similar to either concept. Animals not based on hope or goodness are usually the ones that prominently have or use illumination, for example to lure in prey like anglerfish.
However, in Pokémon Prism Version, the sole ingame Light-type (Primal Kyurem)  represents power in its purest state.
Type matchups
Citrine and Olivine Versions
Offensive

Defensive

Power
Types
 
Power
Types

2×

½×

½×

2×

0×

0×
Mighty & Nasty Version
Offensive

Defensive

Power
Types
 
Power
Types

2×

½×

½×

2×

0×

None

0×
Pokémon Progress and Regress
Offensive

Defensive

Power
Types
 
Power
Types

2×

½×

½×

2×

0×

None

0×
Mid & Out Versions
Offensive

Defensive

Power
Types
 
Power
Types

2×

½×

½×

2×

0×

None

0×

None
Light & Darkness Versions
Offensive

Defensive

Power
Types
 
Power
Types

2×

½×

½×

2×

0×

None

0×
Specialists
Notable
Pokémon Types
Official Types
Fanon Types