Lemmy Koopa
Comments

9
18,014pages on
this wiki
You may be looking for the former Lemmykoopa24, or the the user.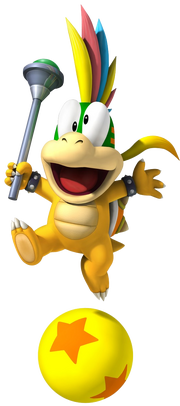 Lemmy Koopa is one of the Koopalings, the fifth-oldest of all the Fantendo and Nintendo ones, and one of King Koopa's seven sons. 
Appearance
Edit
Despite being second from the top, Lemmy is also one of the smallest Koopalings. Lemmy is somewhat eccentric, as Lemmy's hair is rainbow-coloured and he has a lazy eye. Other than that, Lemmy appears to have the regular Koopa Troopa features and all.
Personality
Edit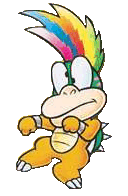 He is known to be exceedingly immature, preffering to play jokes and clown around rather than seriously help with Bowser's schemes. He is known to enjoy playing with his round, bouncy bouncing balls. He prefers to be around his twin Iggy and Larry.
Game Appearances
Edit
Rather than help his father, like the other Koopalings, he will actully be an enemy in SMF. He will join the Agony Squad.
Singalong Down Under!
Edit
Lemmy made his debut in the Mario Singalong! Series in Mario Singalong Down Under! where he was an unlockable character to unlock him you had to sing "Aussie Philosophy" by Steve Forde and the Flange in Karoke mode at least once.
Bowser-Flagged Mountain
Edit
Lemmy returns in New Super Mario Bros YoYo Games with High Mountains. His minions are Goomboss X, Steamies, and Mummipokey X. According to Risen, here are his relationships:
In New Super Mario Bros. 3: Bowser Returns, Lemmy appears once again as a boss, and will actually join the Mario Bros. to have fun once he is defeated.
Lemmy returns as the World 3 boss. Defeating him will give you the wand of Ice Land.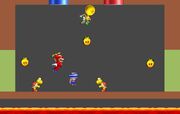 Lemmy reappears with the othr Koopalings in New Super Mario Bros. 3 for the Wii U where he is the boss of World 1. In his castle battle, he can move on his ball up walls and the ceiling. He will throw Green Shells from Koopa Troopa while Red Koopa Troopas come out of Warp Pipes on the ceiling. You can stamp on him when he roll back to the floor. Podoboos come out of the lava below. He will shoot two fireballs instead of bouncy bals from his magic wand. Stamping on him twice will make him throw two Green Shells. He will be defeated after being stamped on a third time.
Super Mario and the Glowing Diamond
Edit
Lemmy Koopa reappeared along with the rest of the Koopalings in Super Mario and the Glowing Diamond. He rules World 3: Sparkle Ocean. This Koopaling can be skipped by defeating Morton Koopa Jr. at World 2: Sea of Sand using Cape Mario. In battle, Lemmy Koopa will pop out of a Warp Pipe. The other two are fake dummies of him. Yoshi or Mario must jump on the correct Lemmy to advance. 3 hits and the key to World 5: Penguin Playground will open. Note that Luigi has to be saved at World 4: Toxic Forest before the player can play as him.
Lemmy Koopa reappears along with the other 6 Koopalings as the bosses of the Nostalgia Area in Lets-a-go, Mario. Like in many of his previous appearances, he balances around on a ball. He will try to ram the player off of the battlefield into the spikes around them. He also will throw smaller balls at the heroes, similar to Larry and Iggy. Also like the latter two, he will spin around like a tornado, but when he hits one of the players, they are shot up onto a ceiling of spikes. If this attack misses, he will split into three and create pipes, just like Wendy. They will each proceed to throw bombs. When the copies are stomped, they turn into Goombas. Finally, he can throw bombs that explode when they hit the ground. He can create giant bombs which bounce three times and then explode, similar to a Mega Mole's rock. His personal minions are Bomb Bros., Ball Bros., and Magikoopas.
He reappears with the other 6 Koopalings in HURRY UP! in the last part of the stage, again as a boss. He is the first Koopaling to fall off of the Koopa Clown Car. There, he attacks by firing balls at the player. Like his brothers and sister, he falls off after he is hit by one of his own projectiles after it was reflected by Tornado Mario.
Lemmy reappears in this game. He rules world 6: Vanilla Snowland.
Lemmy Koopa reppears in this game, and this time Lemmy rules the seventh world in games: Cotton Candy Clouds. This time, this Koopaling exit from the pipes, and throwing a star-patterned bomb. 3 hits to the head, and this boss in defeated.
Lemmy reappears in this game as the boss of Lemmy's Sand Spout Castle, in World 2: Desert Dunes.