Lemming Moles
are subspecies of
Monty Moles
introduced in
Mario 3D World
.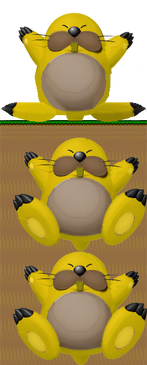 Behavior
Lemming Moles leap out of the dirt like Monty Moles (except on top, instead of the side), usually in groups of 3. Once they leap out, they all run in the same direction, ignoring Mario. Mario can ride on their heads, but if he gets trampled, he will get damaged. If they hit a wall, they will all turn around, but if they reach the edge of the platform, they will leap off (as shown in the image ---->). Mario should jump off before they leap away, or he will be killed.
Allusions
Lemming Moles are based off of the myth that Lemmings commit mass suicide- however, this myth is false.
Appearances
Mario 3D World
Lemming Moles are introduced in M3DW, along with Ninjiinas.
Ad blocker interference detected!
Wikia is a free-to-use site that makes money from advertising. We have a modified experience for viewers using ad blockers

Wikia is not accessible if you've made further modifications. Remove the custom ad blocker rule(s) and the page will load as expected.