Ad blocker interference detected!
Wikia is a free-to-use site that makes money from advertising. We have a modified experience for viewers using ad blockers

Wikia is not accessible if you've made further modifications. Remove the custom ad blocker rule(s) and the page will load as expected.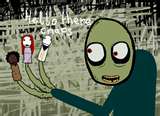 In this unique game by PizzamenStudios, you play as Salad Fingers in his plot to touch rust and feel pain
Characters
Salad Fingers
Young Child
Kid
Hubert Cumberdale
Strange Child
Dead Brother
Betty
Levels
1.Lust for Rust:SF is after the perfect spoon for his salad fingers
2.Tea Party:SF needs help for his tea party
3.Stalker:SF an HC must fight some srmless BBQ stalker
4.Prisonor of Rust:HC,Betty, and the Kid must save SF from some strange child
5.Brother's Visit:SF's long lost (dead) brother is back from The Great War
6.Trapped...Again!:The Strange Child,Hubert,Betty, and the Young Child must save Mr.Fingers from a cupboard
7.Salad Fingers vs......Salad Fingers?:Kenneth the Brave and the strange child must help Salad fight himself
8.Hallucination:Mable and Hubert must help Salad Fingers get over his fear of living people
9.Radio Rumble:Salad and Hubert fight Roger the Radio
10.The Great War:The Great War is coming for Salad Fingers and his friends
11.Society is a Nusience:Salad Fingers and everyone else must get revenge on society for leaving them with nothing but pain and insanity.