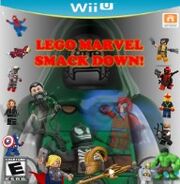 LEGO Marvel Smack Down! is an upcoming lego marvel game exclusive to Nintendo Wii U , and ROC, with over 50 playable fighters!
Gameplay
The same kind of gameplay as the Super Smash Bros. Franchise
ROCU

Lego Wolverine
Quickplay
1-4 players can smack down with friends!
Story Mode
Doctor Doom has caused chaos all over the planet! He and every villan are battling every superhero, and every hero and villan is busy fighting! Meanwhile, The Guardians of the Galaxy are on their way to tell the Earth that Galactus, Consumer of Planets, is on his way! Smack your way to Victory!
Playable Characters
Spider-Man Category
Spider-Man
Nova
Dr. Octopus
Venom
Shocker
The Lizard
Hobgoblin
Iron Man Category
Iron Man
War Machine / Iron Patriot
The Mandarin
Captain America Category
Captain America
Winter Soldier
Baron Zemo
Red Skull
Thor Category
Thor
Loki
Chitauri
Beta-Ray Bill
Incredible Hulk Category
The Hulk
Red Hulk
Abomination
S.H.I.E.L.D. Category
X-Men Category
Wolverine
Cyclops
Iceman
Storm
Pheonix
Beast
Nightcrawler
Rouge
Colossus
Archangel
Bishop
Silver Samurai
Gambit
Magneto
Sabertooth
Ant-Man Category
Ant-Man
Yellowjacket
Wasp
Ultron
Vision
Fantastic 4 / Silver Surfer Category
Mr. Fantastic
Invisible Woman
Thing
Human Torch
Dr. Doom
Silver Surfer
Thanos
Super Skrull
Black Panther Category
Heroes for Hire Category
Guardians of the Galaxy Category
Starlord
Rocket Racoon
Groot
Drax the Destroyer
Bug
Gamdra
Misc. Category
Deadpool
Dr. Strange
Ms. Marvel
Blade
Ghost Rider
Daredevil
Falcon