Lavora is one of Bowser's Koopalings, and probably the oldest of them all, even older than Ludwig. She has kind of interest in rock music and seems to be very attractive.
Personality
She likes rock music, as stated above. Lavora also likes doing at fashion, as she has lipstick and golden locks. She cares very much about her hair, just like Larry.
Appearance
Lavora is the tallest of all Koopalings, even taller than Iggy, as she is also older. She has golden locks, being the only Koopaling with blonde hair. She has a red, spiky shell, with lavender-colored rings for the spikes, a red-colored head and a lavender bow, wrapped on her tail.
Abilities
Just like her father, she can breath fire. She also can climb on walls and jump on the victim. Finally, she is a fantastic rocker. She can also create False Notes with one of her guitars.
Appearances
Lavora's debut is in New Super Mario Bros. Omega, where she was in the airships of World 8. The heroes were surprised, as they suspected Bowser Jr. instead of this never-seen-before Koopaling girl.
Mario Kart 8: All Hills
Unlike the other koopalings in the game, Lavora actually joins Kirby on his quest to save Pop Star. She first appears in World 3-Castle, she had one of the 12 golden stars that the Dark Matter took. After her defeat, she has to lose her golden star. But, she knows "If you can's beat 'em, join 'em", so she joined Kirby ever since. At World 10, she demands a rematch at Royal Raceway from Mario Kart 64 (just a dream Kirby made up). After World 12-Castle and getting all the golden stars, Dark Matter jokes her on leaving Kirby. It didn't work! At the end, Lavora finds out that Bowser gave Dedede the plot to take over Pop Star. In result, leaves Bowser forever! But comes back when King Dedede sprayed everyone with his "Forget Me Spray". She appears in the sky before the credits, but it's just a memable picture. But, she comes back to Pop Star to hear that Morton Jr. had turned into Morton Sr.! They made it to the new king of koopas. He killed Kirby and Lavora gets mad and discovers about King Dedede's "Grow Spray" was behind all of it. She tells Morton Jr., after defeating him and bringing Kirby back to life, to never do it again. She and Kirby played with all the other Kirbies. After the story is done, she becomes playable in the other modes!
Lavora appears as a helper once again, and trains her father, the Mario Bros. and King Boo three times.
Lavora appears as a boss in this game, appearing in the Mid-Boss course Lavora's Evil Theater, being the first boss holding a Super Key. She again makes Evil Notes, which this time must be sent back with Tuba Mario's Power.
Lavora appears as a guest in New Super Mario Bros. VR with a small role, the host of the World 9 (rainbow) selection at the enemy zoo.
Party Time!
She is unlockable in
Mario Enemy Party
.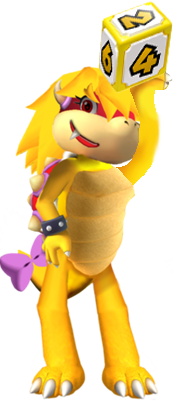 Trivia
Her name is based of the words Lava and Flora (a feminine name which is, awkwardly for the first word, also the Latin name for plants).
"lavora" is also Italian for "it works" (literally).
Strangely, in Mario Enemy Party, her artwork removes the spiked wristband from her left wrist.