Ad blocker interference detected!
Wikia is a free-to-use site that makes money from advertising. We have a modified experience for viewers using ad blockers

Wikia is not accessible if you've made further modifications. Remove the custom ad blocker rule(s) and the page will load as expected.
The
Lava Path series
is a video game series created by
MarioGameChampion
(t∣b∣c)
through
Hammer Egg House, Inc.
It is a series of sandbox games about
a Blargg
accomplishing different tasks through his adventures in
Dinosaur Land
, though the first game is an arcade game. The second game and the ones after it feature a new protagonist known as
Lava-Bob
. It is greatly supported by the
Blargg Fan Club
.
Games
Logo/Name
Summary
System
Release Date(s)
Mario Chase
In this arcade game which takes place during Super Mario World, you are a Blargg on a mission to defeat Mario. You will chase him through levels while fighting obstacles and grabbing items. You can clear levels quicker for high scores, and you only have 1 life.
Arcade Machine
- January 26, 1991
Lava Path 64
The first sandbox game in the series. The game features Lava-Bob on a mission to escape Mario.
Nintendo 64
Currently Unknown
Lava Path Quest
Remake: Lava Path Quest HD
An RPG in the series. It features Lava-Bob's experiences before Mario attacked Vanilla Dome. It explains how Lava-Bob left the Nether Cave.
GameBoy Advance
Remake: Wii U
Currently Unknown
Lava World
The sequel to Lava Path 64. Little is known about this game so far, but it is known it takes place before Super Mario Galaxy 2.
Nintendo GameCube
Currently Unknown
Lava Path: Hero's Side
An actual flash game. It is very similar to to the first game in the series, but you control Mario. The game has been created by Locky's Productions.
PC
Worldwide - TBA 2013
Blargg Squad Deluxe: Do-it-Yourself!
A D.I.Y action game in which you create your own lava heroes to solve various tasks.
Nintendo 3DS
Currently Unknown
Lava Path: Flight Fight
A game created by Samtendo09 (t∣b∣c) for Series Swap Day 5. It features a new sidescrolling gameplay and features Lava-Bob and two spirits on a quest to stop the evil Froozard from freezing the rest of the world's lava.
Currently Unknown
Currently Unknown
Fantendo Funfair Attraction: Mario's Volcano Chase
A competitive attraction in Fantendo Funfair. It is very similar to Mario Chase in Nintendo Land, and features Miis dressed as Blarggs trying to get a Mii dressed as Mario. However, rather than a time limit, Mario must reach the Giant Gate.
NintenTouch, Wii U, Pro Gamer
Worldwide - TBA
Characters
Recurring Objects/Items
Credits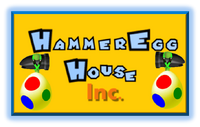 MarioGameChampion (t∣b∣c)
Active: See here.
Cancelled: Yoshi Quest

Lava Path•Hammer Egg House•Superior Mario World•Koopa Kaos

Handheld
Nintendo 4-Screen Tablet•NintenTouch
Console
Currently None

MarioGameChampion (t∣b∣c)•SuperMarioBro64 (t∣b∣c)•SuperDuperMarioKirby (t∣b∣c)•Brockdilley (t∣b∣c)•LightningLuigi93 (t∣b∣c)•Locky'12 (t∣b∣c)•Sr.Wario (t∣b∣c)•SuperToadMan56 (t∣b∣c)•ϞPlazzapϟ (t∣b∣c)

The Fan Corporation•Fantendo•Blargg Fan Club