Ad blocker interference detected!
Wikia is a free-to-use site that makes money from advertising. We have a modified experience for viewers using ad blockers

Wikia is not accessible if you've made further modifications. Remove the custom ad blocker rule(s) and the page will load as expected.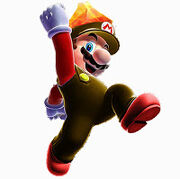 Lava Mario is one of Mario's Power-Ups. It's first ever appearance was pixelated, but now it has got a 3D design for Super Mario Universe: The end. His power is to throw lava balls (that stay in the game forever, until you die) and you can turn into a lava rock, so you turn into a yellow and orange rock that leaves behind lava, you can also throw lava at the same time
Appearance
He wears a red t-shirt, a brown-ish colour over-alls and hat, red shoes and white gloves. The buttons on his overalls appear yellow.
Appearances
In Super Mario Universe: The End, Lava Mario is the most powerful power-up of the Fire-sort.