Information
This game is the game that made loler and all the stuff. The gameplay footage looks better than the 2nd because this is based off of LOL.pc The game but a rpg. The logo for the company is a cloud because thats its original logo. it was later changed to the one on the second
LOL.pc RPG
Developer(s)
Publisher(s)
Platform(s)
Release Date(s)
September 12, 1996
Mode(s)
New game
Age Rating(s)
Genre(s)
RPG
Media Included
SNES cartridge
Characters
Loler is the main protaniganst
he makes his debut in this game!
FishTer is a enemy and hes like loler hes new
Objects
This block is like mario. You hit it and something comes out
im not gonna even bother with this one cuz its self explainatory
Gameplay footage\ Spaceworld 1995 title
The game plays like mario rpg but diffrent so heres the footage
In spaceworld 1995. this game was shown for the first time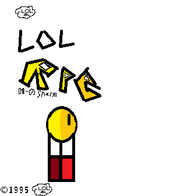 Ad blocker interference detected!
Wikia is a free-to-use site that makes money from advertising. We have a modified experience for viewers using ad blockers

Wikia is not accessible if you've made further modifications. Remove the custom ad blocker rule(s) and the page will load as expected.