Kuromi My Melody's rival is a tomboy who loves making mischief and causing trouble! Although she may looks tought, she is actually very girly and is attracted to good-looking guys! Kuromi enjoys writing in her diary and is hooked on romantic short-stories. Her favorite color is black and her favorite food is shallots. Fittingly, her birthday is October 31st from the anime Onegai My Melody, was created by Sanrio, and voiced by Junko Takeuchi. She is a white Rabbit-like creature, wearing a black Jester's hat with a pink Skull (symbolism) on the front and a black "devil" tail in the place of a normal rabbit's tail. Despite being a villian, Kuromi is mostly into food and even cooks some. Kuromi's appearance also looks similar to those of cartoon characters from the 1920s and 1930s.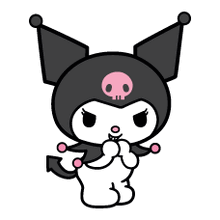 Ad blocker interference detected!
Wikia is a free-to-use site that makes money from advertising. We have a modified experience for viewers using ad blockers

Wikia is not accessible if you've made further modifications. Remove the custom ad blocker rule(s) and the page will load as expected.