Kritter Canyon is an unlockable stadium in the game Mario Rugby. It is home to Kritter and can be unlocked by using all 10 of the Rugby Balls.
Description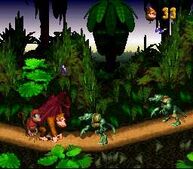 The Stadium is a rock type and is located in the Mushroom Kingdom. It is a very uneven stadium and has many Screaming Pillars, which fall onto the stadium, making it more uneven. The stadium also has many Kritters that walk through it. The ground may also supply some extra coins.
Ad blocker interference detected!
Wikia is a free-to-use site that makes money from advertising. We have a modified experience for viewers using ad blockers

Wikia is not accessible if you've made further modifications. Remove the custom ad blocker rule(s) and the page will load as expected.