"Koopompany, where Bowser and kids get real attention."


— Fandro
"Join our triforce, or the CDI games will return"


— Ganon prompting others to join
"Where Bowser is NEVER left out."


— Koopompany slogan
This Company Recruits!


If you are interested in the company, please contact the director of the company.
Koopompany/Old

The company that makes game related to Bowser's army.

Type of Company
Video Game Company
Founder(s)
Fandro
Founded at/in
November 30, 2013
Headquarters
Fantendo
Area(s) Served
All countries
Owner(s)
Crimson el Roserade
No. of Employee(s)
Nerdude360
Koopompany is the producer of many games related to Bowser's army.  It is led by Fandro.  It is properly named "Koopompany", although an alternative can be "Koopompony".
Since June 29, 2014, Koopompany became a subcompany of Fandraxonian Enterprises, owning all of its games and property.
Mascots
King Bowser
Ludwig von Koopa
Motley Boss Blob
Products
The products of the company are:
Games Starring All Koopalings
Games that Don't Star all Koopalings/Downloadable Content
Bowser Series
TV Series
Movies
An second upcoming Koopalings movie
What can be done in Koopompany
Edit any article that has the Koopompany banner on it or is in the Koopompany Products category
Make sequels and prequels to my games
Get friendly messages
Become his friend
If you the owner of a Koopompany affiliate, you can edit Koopompany games as well.
If you feel bad about not working much, at least remember you aren't the guys below: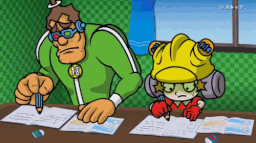 Rules
NO. FIGHTING.
No spamming or trolling
Make somewhat big edits to pages, don't make tiny little ones
Be helpful and kind to others.
No Frollo allowed.
Disobeying any of the above will make you receive a warning.
Workers
Statuses
Owner - Crimson el Roserade founded this and is the boss
Assistant - Can do anything in company, including changing rules, but cannot rule over Fandro
Employee - Has made a game
Has Yet to Make Game - He/She needs to make a game first to have a true position
Workers Themselves
| Worker | Koopa Picture |
| --- | --- |
| MeGaeXal | |
| NSMWu | |
| SuperSonicDarkness | |
| Blue Jay of Lightning | |
| BielGuy | |
| Marx422 | |
| DocNewFound | |
| AwesomeLuke | |
| KinglerMaster | |
| DoodleFox | |
| PatrickSG | |
Others
Ghostracer: He was a nice guy who knew much about wikitext, but he got his account disabled globally without any given reason (as well his wiki's are closed). Position (when he was still active): Employee
Blue Jay of Lightning: Account disabled, was employee.
Threads on Products
Warning
If you are misbehaving, this warning will show up.  Only Crimson el Roserade can use the template due to his ownership of the company.  You may use if you have permission and a reason to use it.
Hello, Koopompany member. This is just a warning so your inappropriate behavior can be stopped. The reason for this warning is: This is just a warning example. The template is called "Koopompany Warning".. Please follow the rules of the company or you will be fired or degraded to a lower position.
Koopompany Rating System
Yeah, Koopompany has a rating system. Here is the table for ratings:
| Rating | Description | How to Get | Awards |
| --- | --- | --- | --- |
| This Game SHOULD EXIST! | This game is so epic that Nintendo should consider either hiring you or making the game! | Make a game that Nintendo should make! | I'll nominate it for the next featured article. |
| Excellent Work - Unique! | This game is unique and fresh!  Well done! | Make a game that exceeds our expectations. | I will make a template for you! |
| Koopompany Approved | This is approved by Koopompany!  Want to join? | Make a game that Koopompany approves. | Be asked to join Koopompany. |
| OK! | This article can fit on the site, its a pleasure having it here! | Make a game that can keep its place on Fantendo. | Nothing |
| Boring-Snoring | This game is a bit boring for us. | Make a game that is boring. | Nothing |
| Terrible | THIS GAME SUCKS. | Make a game that sucks. | Nothing. |
Projects in Beta
Artwork for Koopompany
Have artwork?  Place it in the subpage.
Ad blocker interference detected!
Wikia is a free-to-use site that makes money from advertising. We have a modified experience for viewers using ad blockers

Wikia is not accessible if you've made further modifications. Remove the custom ad blocker rule(s) and the page will load as expected.