Koopa Troopa Beach is a default stadium in the game Mario Rugby. It is home to Koopa Troopa.
Description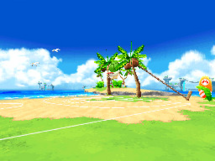 The Stadium is a sand type and is surronded by the sea. The course contains many swaying palm trees, which drop the occasional coconut onto the stadium. Also, some parts of the sand will make you sink if you stand there for too long. There is no seating in the stadium, instead Pianta's and Noki's watch from surfboard's and small boats.
Ad blocker interference detected!
Wikia is a free-to-use site that makes money from advertising. We have a modified experience for viewers using ad blockers

Wikia is not accessible if you've made further modifications. Remove the custom ad blocker rule(s) and the page will load as expected.