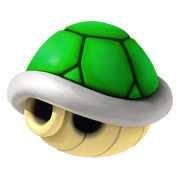 Koopa Shells are the turtle shells worn by Koopa Troopas. They have hexagon-shaped scales and a beige-yellow border. They can be used as weapon when kicked by Mario or his friends, and they can have different effects depending on the variety. In some games, the Koopa stays inside of the shell when it retreats and will reappear, while in others it pops out of the shell and becomes a Beach Koopa.
List of different Koopa Shells
Appearances
A wide variety of Koopa Shells will appear in this game as a category of items.
Gallery
Ad blocker interference detected!
Wikia is a free-to-use site that makes money from advertising. We have a modified experience for viewers using ad blockers

Wikia is not accessible if you've made further modifications. Remove the custom ad blocker rule(s) and the page will load as expected.