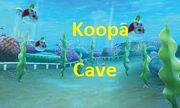 Description
Koopa Cave is the 2nd track in the Mushroom Cup for the upcoming game, Mario Kart 8! This track takes place in a beach themed course with Sidesteppers and a cave.
Track Owners: Koopa, Paratroopa
Obstacles: Porcu-puffers, Sidesteppers, Clampies, Stalagmites
Staff Ghost: Koopa, Koopa Dasher, Green Shell, Wingman
Expert Staff Ghost: Paratroopa, Standard Kart, Red Shell, Paratrooper
Layout
The track starts on a beach with Sidesteppers. The next part takes drivers into an underwater cave, running into Porcu-puffers and Clampies along the way. The last section leads to a crystalline cave with falling stalagmites and then back onto the beach.
Ad blocker interference detected!
Wikia is a free-to-use site that makes money from advertising. We have a modified experience for viewers using ad blockers

Wikia is not accessible if you've made further modifications. Remove the custom ad blocker rule(s) and the page will load as expected.