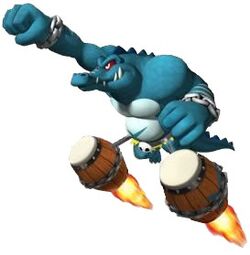 Kludge is a large, blue Kremling, which resembles Krusha from Donkey Kong 64 and Donkey Kong Country 1, Kruncha from Donkey Kong Country 2 and Krumple from Donkey Kong Country 3. He seems to be a composite of the three Kremlings, which were all based off Krusha.
He was created as a character for Donkey Kong Barrel Blast on the Nintendo Wii and then reappered on the boxing game Donkey Kong Knockout again, as a playable character.
Kludge appeared as a secret character on the multiplayer Wii boxing game Donkey Kong Knockout where he was a very strong character rivaling Funky Kong, however, he was also very slow. His special move was to hit opponents with a club.
He was unlocked by beating the game with Funky Kong once on Easy or Normal, and then once again on Hard or Intense.
Gallery
Ad blocker interference detected!
Wikia is a free-to-use site that makes money from advertising. We have a modified experience for viewers using ad blockers

Wikia is not accessible if you've made further modifications. Remove the custom ad blocker rule(s) and the page will load as expected.