Kirby Smash Bros. Whispy Woods and his legs Alternate costumes/colors
Comments

15
Share
Ad blocker interference detected!
Wikia is a free-to-use site that makes money from advertising. We have a modified experience for viewers using ad blockers

Wikia is not accessible if you've made further modifications. Remove the custom ad blocker rule(s) and the page will load as expected.
These are the all the alternate colors for Kirby Smash Bros. In case 2 players pick the same character.
Kirby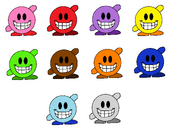 Purple
Pink: Default
Red: Red team
Yellow: Keeby
Green: Green team/Plasma kirby
Brown: Stone kirby
Orange
Blue: Blue team
Turquoise: Blue team/Ice kirby
White: Kirby's Dreamland
Kabu
Dark yellow: Default Lime green: Green team/Hill of grass
Blue: Blue team
Pink
Yellow
Orange
Purple
Red: Red team
Brown: Tree cut down
White: Ice
Turquoise
Teal
Lololo and Lalala
| Lololo | Lalala | Team |
| --- | --- | --- |
| Blue | Pink | Blue team |
| Orange | Purple | no |
| White | Black | no |
| Brown | Red | Red team |
| Green | Yellow | Green team |
| Grey | Gold | no |
King DEDEDE
Red coat/Blue fur: Default/Red team/Kirby 64 player 1
Pink coat/Purple fur: Kirby 64 player 2
Turquoise coat/Light grey fur
Blue coat/Dark grey fur: Regular penguin/Blue team/Kirby 64 player 4
Orange coat/Brown fur: Kirby 64 player 3
Brown coat/Light blue fur
Purple coat/Dark green fur
Green coat/Dark red fur: Green team