These are the all the alternate colors for Kirby Smash Bros. In case 2 players pick the same character.
Kirby
Purple
Pink: Default
Red: Red team
Yellow: Keeby
Green: Green team/Plasma kirby
Brown: Stone kirby
Orange
Blue: Blue team
Turquoise: Blue team/Ice kirby
White: Kirby's Dreamland
Kabu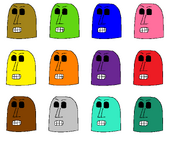 Dark yellow: Default Lime green: Green team/Hill of grass
Blue: Blue team
Pink
Yellow
Orange
Purple
Red: Red team
Brown: Tree cut down
White: Ice
Turquoise
Teal
Lololo and Lalala
| Lololo | Lalala | Team |
| --- | --- | --- |
| Blue | Pink | Blue team |
| Orange | Purple | no |
| White | Black | no |
| Brown | Red | Red team |
| Green | Yellow | Green team |
| Grey | Gold | no |
King DEDEDE
Red coat/Blue fur: Default/Red team/Kirby 64 player 1
Pink coat/Purple fur: Kirby 64 player 2
Turquoise coat/Light grey fur
Blue coat/Dark grey fur: Regular penguin/Blue team/Kirby 64 player 4
Orange coat/Brown fur: Kirby 64 player 3
Brown coat/Light blue fur
Purple coat/Dark green fur
Green coat/Dark red fur: Green team
Ad blocker interference detected!
Wikia is a free-to-use site that makes money from advertising. We have a modified experience for viewers using ad blockers

Wikia is not accessible if you've made further modifications. Remove the custom ad blocker rule(s) and the page will load as expected.