Ad blocker interference detected!
Wikia is a free-to-use site that makes money from advertising. We have a modified experience for viewers using ad blockers

Wikia is not accessible if you've made further modifications. Remove the custom ad blocker rule(s) and the page will load as expected.
Kirby Fighters Ultimate
Developer(s)
Publisher(s)
Platform(s)
Hammicube
Genre(s)
Fighter
Release Date(s)
August 28th 2016
Kirby Fighters Ultimate is the sequel to Kirby Fighters Deluxe, an expansion of a minigame in Kirby Triple Deluxe. It is produced by Hammy Games Inc. for the Hammicube. Unlike its predecessor, Ultimate is a standalone game. This game brings back many abilities to the Kirby Fighters universe, but doesn't introduce any new ones (excluding abilities exclusive to amiibo).
Game Modes
Tournament
For the full page, see here
TBA
Multi-Player
TBA
Custom Battle
TBA
Mass Attack
TBA
Ability Swap
TBA
Star Collector
TBA
Missions
For the full page, see here
"You ready, secret agent? Just kidding. Take on some matches with special objectives to get rewards! After every 9 missions, you'll have to fight a boss."
The Arena
For boss descriptions, see here
TBA
The True Arena
For EX boss descriptions, see here
TBA
Online Mode
TBA
Copy Abilities
For a detailed description of how each copy ability plays, see here
Default
| Copy Ability | Copy Ability |
| --- | --- |
| Sword | Cutter |
| | |
| "Every hero needs a sword, right? Hack 'n' slash your way through your foes! Slice your way to the top! Rising Break! Spin Slash!" | "Use your trademark boomerang blades skilfully and you're guaranteed a victory! Or, y'know, don't. That works too. Your cutters will come back to you, so use that to your advantage!" |
| Hammer | Ninja |
| | |
| "It's hard to believe that the king really let you borrow his hammer! Put its weight to good use and smash some records! Mix things up from the usual pounds with the fiery Hammer Flip technique." | "Now you see me, now you don't! Where'd I go? Nobody knows! Stick to walls and throw shirukens, as well as using a new vanishing technique. Sayonara!" |
| Archer | Beam |
| | |
| "Known for its amazing range, this ability's better off at a distance. Comes with a bow and arrow, as well as a snazzy hat to match. A fully charged arrow can devastating!" | "What's this beam made of? Nobody really knows. Some say it's nothing but energy, which seems pretty cool, right? You can use your standard Beam Whip to force enemies to keep their distance or charge up a powerful projectile!" |
| Fire | Ice |
| | |
| "Hot! Hot! Hot! You control the flames now! Spit fire like a firebreather at a circus or charge like a comet! It's all up to you! Just try not to get burned..." | "If you need to chill out, then this abilities perfect for you! Use your frosty abilities to cool things down and freeze your enemies. Then, you can kick 'em at others!" |
| Water | Spear |
| | |
| "How does that water stay on your head? Magic? Who knows! With this ability, you can wash away your competition by using powerful waves, water blasts and rainbows, which are surprisingly powerful." | "Like a tribal warrior, get ready to charge into battle! Get to the point with fast jabs of your spear, or toss it like a javelin to attack from a distance! You can even use it like a helicopter!" |
Unlockable
| Copy Ability | Copy Ability |
| --- | --- |
| Beetle | Bell |
| | |
| "Beetles are a lot tougher than they look! You've got a huge horn and some tiny wings to bug out your enemies! The horn's great for charging and that's just what you're gonna do." | "Ring ring! Ding-a-ling-ling! Looks like it's chime to fight! For you the bell tolls, and smashes and rings! Make some soundwaves or hide in your bell, it's up to you. Ah, it's music to my ears." |
| Leaf | Circus |
| | |
| "The Leaf ability is much more like a dancer than anything. As you twirl around, a hurricane of razor-sharp leaves will surround you. Just try to finish the battle before Autumn, okay?" | "There's no clowning around in the heat of battle, except for when you have the Circus ability! Surprise foes with your unpredictable attacks; you're the star of the show! The one, the only, Circus Kirby!" |
| Spark | Hi-Jump |
| | |
| "Bzzzt! Shock enemies using your electrifying attacks with the Spark ability! This ability allows you to create a shield made of electricity, which can be charged and then launched!" | "Is it a bird? Is it a plane? No, it's the Hi-Jump ability! Don a crimson cape and fly around the battlefield, surveying the citizens as they battle. Of course, that doesn't mean you can't join in..." |
Super Abilities
Copy Ability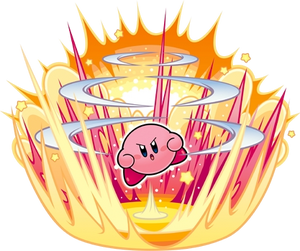 Crash

"BOOM! CRASH! KAPOW! The ultimate destructive ability, Crash! When you use this one-time attack, you will unleash a devastating explosion! Press the attack button quickly to power it up!"
amiibo

Copy Ability
Copy Ability

Plumber
TBA
Captain
"Don a familiar hat and let's-a-go! Use pipes to your advantage, as well as some seemingly random abilities. Pipe Cannon! Fireball! Launch Pipe! Penguin Slide! Wahoo!"
"With a headlamp on your head and a bag on your back, you're ready for adventure! Spin into enemies with your pickaxe and stun them with your headlamp or throw diamonds! Your precious diamonds that you worked so hard for..."
Mario amiibo
Luigi amiibo
Wario amiibo
8-Bit Mario amiibo
Toad amiibo
TBA
Royal
TBA
Egg
TBA
"Glad to see your busy schedule lined up with the tournament! Your Majesty, you have plenty of tricks up your sleeve, such as the powerful Heavy Bomber! Prove you're not afraid to get your hands dirty!"
"Scramble the competition with this fresh new ability! Lay down some Egg Bombs or summon some helpers if you want to be defensive, or go all-out with throwing them! Who knew eggs could be such a versatile weapon?"
Peach amiibo
Yoshi amiibo
TBA
Monster

Robobot
TBA
TBA
"Whoa-ho-ho! Now you're ready to rumble! With this monstrous ability you can, burn enemies with your flame breath, slash them with your razor sharp claws and more! Who knew being bad could feel so good?"
"Beep-beep! Back from your previous adventure, the Robobot is happy to be piloted! An expert engineer has decked it out with some new gizmos, so why not check them out? Launch missiles, throw punches and use moves based on other abilities!"
Bowser amiibo
Bowser Jr. amiibo
TBA
Cosmic

Doctor
TBA
TBA
"An out-of-this-world ability with potential of cosmic proportions! Use the power of the cosmos and endless space to your advantage. Summon black holes, shooting stars and asteroids. You're a star!"
"At such a large fighting tournament, it's amazing that they only need one doctor. You must really know your stuff! Put that knowledge to use on the battlefield! Match up pills, infect your enemies, anything goes! Just remember, you'll be the one fixing them up afterwards."
Rosalina amiibo
Dr. Mario amiibo

Yarn
TBA
Ape
TBA
TBA
"Who thought bringing a ball of yarn to the tournament was a good idea? With the Yarn ability, you can wrap up foes with your yarn whip and transform into various stringy forms! This ability looks a tad familiar..."
"Go bananas with this wild new ability! Swing from vines or use vines as whips, it's your choice! Throw banana skins to trip up opponents or use your new athleticism to your advantage! Go full ape out there!"
Yarn Yoshi amiibo
Donkey Kong amiibo
Diddy Kong amiibo

King Dedede

Meta Knight
TBA
TBA
"Wow, the King himself is fighting, too? This really is the ultimate tournament! Your majesty, you attack very similarly to the Hammer ability, but you are a much larger target. Lucky for you, this means you have a longer reach than most of your competitors!"
"Wow, Meta Knight's here too? This is amazing! Sir, your attacks are very similar to that of the Sword ability, but there's nothing wrong with that! You look much cooler than most of the competitors, so that's a huge plus!"
King Dedede amiibo
Meta Knight amiibo

Clay

Waddle Dee
TBA
TBA
"You're made of clay now? That doesn't sound very helpful. Unless, of course, you have the ability to summon rainbows to roll along or charge straight through enemies! Maybe it's not such a curse after all!"
"Who let a Waddle Dee into the tournament? This isn't just any Waddle Dee, though! This common enemy comes armed with a Spear and fights much like that ability, but also wields a Parasol!"
Kirby amiibo
Waddle Dee amiibo
Hats
TBA
Stages
Default
TBA
Unlockable
TBA
Items
Returning
TBA
New
TBA
Bosses
TBA
EX Bosses
TBA
Gallery
Trivia
Bowser Jr, Pit, Dark Pit and R.O.B. are the only amiibo to unlock a returning ability