Kirby (series)
Comments

0
18,103pages on
this wiki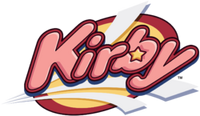 The Kirby series is a major Nintendo series that focuses on a pink puffball named Kirby who is able to suck up enemies and gain their abilities. Kirby often clashes with King Dedede and Meta Knight, while getting help from friends, such as Knuckle Joe and Chilly. There is also a subseries, Kirby Super Star. The Kirby series is a second party Nintendo series as the property is owned by HAL Labotories.
Super Smash Bros. Series
Edit
In the Super Smash Bros. Series, Kirby propertys are found in great amounts. In SSBR, Kirby and King Dedede are playable, while Frosty appears as an Assist Trophy. Meta Knight appears as a boss. In SSBF, Kirby, Storo, Spinni, Meta Knight, and Dedede are thus playable, with a Vegtable Valley and a black and white Kirby stage appear. In Super Smash Bros. Clash, Kirby, Spinni, King Dedede, and Meta Knight are confirmed characters, with a stage named Orange Ocean also confirmed. The Rock Star theme is also confirmed, it is confirmed to appear in a Kirby Stage, possibly Orange Ocean. In New Smash Bros Game (untitled), Kirby is a playable character. Dedede is ALSO a character in the game. One of the items is a Star Rod. There is a Dreamland stage, as well as a Castle Wall stage. One monster is a Knight.
In Smash Tactics, Kirby has a team of his own. The hero is Kirby, the workers are Waddle Dees and buildings include the Shooting Star Shrine.
Kirby 64 DS
Edit
Kirby stars in the game Kirby 64 DS The Shadow King.
Kirby "New Generation" era
Edit
There is a round of Kirby games that support the 64 DS game called "New Kirby Generation".
Omegaverse-developed Kirby Games
Edit
The Dark Matter Saga
Edit
This series of Kirby games feature the diabolical Dark Matter as the main villain. These games center around collecting all of a particular item with the help of friends.