Ad blocker interference detected!
Wikia is a free-to-use site that makes money from advertising. We have a modified experience for viewers using ad blockers

Wikia is not accessible if you've made further modifications. Remove the custom ad blocker rule(s) and the page will load as expected.
Kibian
Developer(s)
Yolo Games
Manufacturer(s)
Yolo Games
Product Family
Yolo home consoles
Console Type
Home console
Generation
8th
Storage
500GB
Release Date(s)
Non confirmed
Media
Kiba Disk
CPU
Nvidia GXforce 4G
Feature(s)
3D Mode


Adventures of Kiba Built In On Deluxe Model
Built in YolOnline and Kibian Store

Kibian is the newest 8th generation console as of Easter 2014. It is programed by Yolo Games.It's sister console is the Kibai. It has a Deluxe model, which is lime instead of the usual black and has Adventures of Kiba on it. It holds the world record for worst selling Home Console ever. It sold a horrible 68 units at its worldwide release, explaining its low production
Games
List of games
All Games Underneath For Kibian

All pages with category Kibian Games are in this scroll box.
Making a game for Kibian?
Use the images bellow and ask for permission.
Features
Main Menu
The Main Menu of Kibian is made for the easiest posible expirence using it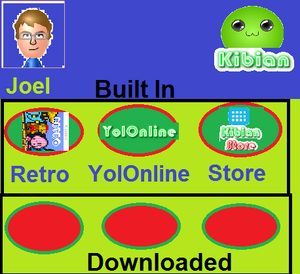 As seen in the image above, The built in software is on top of the menu, while the bottom is for DLC.
The DLC line Will keep growing as you download more
YolOnline

Yolo Online (Stylised as YolOnline) is a super powerful internet browser that runs on Yolo Games consoles such as the Kibian and the Kibai.It can have 30 tabs running at once, and on things like Fantendo, will save your stuff if you leave the tab.
Store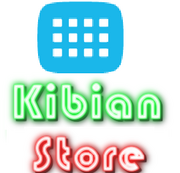 The Kibian Store is a program powered by YolOnline to download programs onto the Kibian and the Kibai.
Pending
You can add stuff here that you think is worthy to be on the console
Images
Features
Trivia
The consoles original name was the Yolo 400
How do rate this console?
FennekinZ64 (Talk)
FennekinZ64's Stuff
Games

Yolo Games
NOTE:All the content in this dropdown is OUTDATED. see Galexial Gaming for more info

Characters
Other Stuff