Kalypso is one of the very few female Kremlings. She has an unknown grudge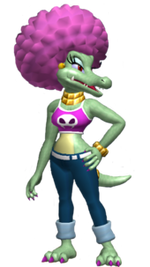 against
Tiny Kong
. She first appeared as a playable character in the
Wii
game
Donkey Kong Barrel Blast
before re-appering again as a playable character on the Wii boxing game
Donkey Kong Knockout
.
Apparences
Kalypso appears as a secret character on the Nintendo Wii boxing game Donkey Kong Knockout she is a weak and fast character with stats similar to Tiny Kong albeit a bit stronger and slower. Her special move is to cover the field with her hair and the withold the opponent to attack.
To unlock her the game must be completed with Tiny Kong twice.
Kalypso appears as a playable character in the multiplayer Wii racing game Donkey Kong Racing. She appears as part of the Kremling category.
Kalypso will be a playable characters in the unpcoming game: Mario Sports Mix Sam. She is a skill character and she's a part of the Kremlings Sport Crew team
Gallery
16pxHero Team16px
Villian Team
Starters
- - -
- - -
Unlockable
N/A
- -
Platform Exclusive Characters
N/A
N/A
Status Unknown
-
Ad blocker interference detected!
Wikia is a free-to-use site that makes money from advertising. We have a modified experience for viewers using ad blockers

Wikia is not accessible if you've made further modifications. Remove the custom ad blocker rule(s) and the page will load as expected.