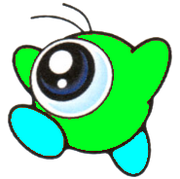 Joey is the first fan character by GamerAwesomeStuff.
Joey the Waddle Doo
Full Name
Joey the Waddle Doo
Gender
Male
Species
Waddle Doo
Ability/ies
Eye Beam
First Appearance
Kirby's Adventure 2 (Sub-Game)
Latest Appearance
Kirby's Adventure 2 (Sub-Game)
Backstory
Joey is a former worker of King Dedede. He then quit while in the middle of a battle with him. He was also teamed up with Kirby and his friends. After quiting King Dedede's Army he helps Kirby on adventures.
Game Apperances
Joey made a apperance as a playable Character in the Sub-Game Joey's Adventure. This happened before the events of his Backstory. 
Gallery
Ad blocker interference detected!
Wikia is a free-to-use site that makes money from advertising. We have a modified experience for viewers using ad blockers

Wikia is not accessible if you've made further modifications. Remove the custom ad blocker rule(s) and the page will load as expected.