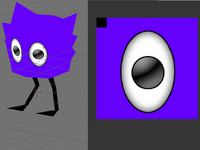 This is for the character named Jim. For his species, see Jim (species).
Jim is the main character of the game Jim of the Floating Isles, hence the title of the game. Jim is more athletic then most of his kind. Either though talented, throughout the game he shows himself to be lazy, easily angered, and hates peer pressure. He loves to eat, which it can even double his health if he eats a giant melon. Jim also has a good balance, as he can walk on a metal pole without slipping, and can run on giant boulders to knock things over. Even though he doesn't have much of a real name, he has an orange brother named Jeniysa. Jeniysa is his older brother by 2 years and has taught Jim all his athletic abilities, so they are pretty even. They reveal to have a bit of a sibling rivalry according to the descriptions in split screen mode.
Ad blocker interference detected!
Wikia is a free-to-use site that makes money from advertising. We have a modified experience for viewers using ad blockers

Wikia is not accessible if you've made further modifications. Remove the custom ad blocker rule(s) and the page will load as expected.