The
Iron Tiger
is the machine driven by the wild and energetic Baba. It was originally designed by the F-Zero Executive Project Committee in order to suitably aid Baba in becoming a full-fledged F-Zero pilot as per his lifelong training up to this point. The overall goal of this venture was to craft an F-Zero machine with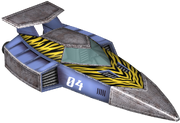 all-around-balanced stats that a newcomer (despite possible past experience and determination) would be able to handle the first few times around the tracks. And due to Baba's naturally-manic energy and often failure to rationalize situations properly as a result, the fact that this machine's boost power has been intentionally decreased while the boost power and body strength remain in top form is no coincidence.
Statistics
Appearances
The Iron Tiger makes several appearances in the game. It appears as a trophy along with its pilot Baba. In addition, the machine can be seen racing on Mute City.
The Iron Tiger returns once again in F-Zero U, and is one of the few machines that hasn't been tweaked or improved on.
Ad blocker interference detected!
Wikia is a free-to-use site that makes money from advertising. We have a modified experience for viewers using ad blockers

Wikia is not accessible if you've made further modifications. Remove the custom ad blocker rule(s) and the page will load as expected.