Inkling did not originate from fanon, and more information can be found on their respective wiki(s). You may read more about it on the following wiki(s):
The Inklings are the main playable characters of the 2015 shooter game Splatoon. The orange Inkling, commonly known by fans as Ika, is the most popular one, being one of the few that support official artwork. While they can be of either gender, a large portion of the ones seen in Splatoon are female, and are usually indicated as such. They have the ability to transform into squids and swim within ink.
An Inkling's humanoid form is made out of liquid, and, as such, they are unable to keep a solid form when submerged within water. Additionally, humanoid Inklings resemble regular squids in a number of different ways, including their teeth and the number of limbs they possess.
A similar species exists, known as the Octoling. They are members of the Octarian army that rival that of the Inklings'.
Personalities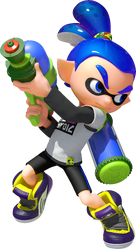 The Inklings are fairly competitive, as they are known for their large ink battles that have them covering the terrain with their colours. Little else about their personalities are known, though it is suspected that they are quite playful when squids.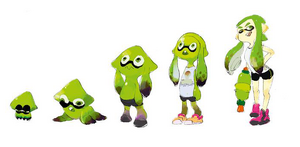 Game Appearances
Non-fanon
Splatoon
TBA
Splatoon 2
TBA
Fanon
Super Smash Bros. Fusion
An Inkling appears in the Wii U version of Super Smash Bros. Fusion as an Assist Trophy. After spawning in, the Inkling girl will run around shooting ink at her summoner's opponents. This ink does little damage, but has the ability to slow down opponents. Additionally, she will also turn into a squid herself, and occasionally headbutt people, which does a fair amount of knockback. Various Inklings also appear on the Industrial Complex stage, where they both act as stage hazards and appear in the background.
Super Smash Bros. Eternal Showdown
Both a male blue Inkling and a female orange Inkling appear as playable characters in Super Smash Bros. Eternal Showdown. For more information, see here.
Super Smash Bros. Battle
Inkling appears as an unlockable character in Super Smash Bros. Battle. They are unlocked by unlocking all the file decoration colors, completing 15-Minute Battle, or recruiting them in League of Light.
Neutral Special: Paint Shot
The default male Inkling is a playable character in this game, with four of his palette swaps changing him into the female Inkling. Inkling is available from the start.
Almost all of Inkling's attacks have at least a little range to them. By crouching, he can transform into a squid, allowing him to perform a move similar to crawling. Below are the Inkling's Specials...
Standard Special: Splat Charger. For this attack, the Inkling shoots a stream of paint from a Splat Charger. This attack can be briefly charged to increase the power.
Up Special: Splat Roller. The Inkling uses a Splat Roller and travels along the background for about two seconds. Can be navigated. Deals no damage whatsoever.
Side Special: Inkzooka. The Inkling takes out an Inkzooka and fires a large blob of paint from it. Powerful, but has considerable starting and ending lag.
Down Special: Splat Bomb. The Inkling throws out a Splat Bomb that explodes after some time.
Final Smash: Inkstrike! The Inkling sweeps nearby enemies into the air with a paintbrush, attacks them at all angles and then calls for a tornado of paint to land a final blow.
The Inkling also plays a role in the game's Adventure Mode, accompanying Marth and later Mega Man as they descend an icy mountain.
Other Media Appearances
Fanon
TBA
amiibo
| | | |
| --- | --- | --- |
| | An amiibo figure of Inkling Girl exists! For more info about these amiibo, see this page. | |
| | | |
| --- | --- | --- |
| | An amiibo figure of Inkling Boy exists! For more info about these amiibo, see this page. | |
| | | |
| --- | --- | --- |
| | An amiibo figure of Inkling Squid exists! For more info about these amiibo, see this page. | |
Gallery
Human form
Squid form
Trivia
Ad blocker interference detected!
Wikia is a free-to-use site that makes money from advertising. We have a modified experience for viewers using ad blockers

Wikia is not accessible if you've made further modifications. Remove the custom ad blocker rule(s) and the page will load as expected.