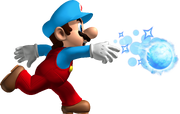 Ice Mario is one of Mario's Power-Ups. Mario can access this form by using an Ice Flower or a Frozen Mushroom. There are two variations of Ice Mario, one debuting in Super Mario Galaxy (also known as Frozen Mario) and the other in New Super Mario Bros. Wii. Wario's version of Ice Mario is Ice Dragon Wario and his frozen form is Yeti Wario.
The Super Mario Galaxy or "Frozen Mario" version of Ice Mario makes small ice platforms on any sort of liquid (water, poison, lava) and even quicksand and waterfalls. However, the ice disappears for a short time. When Mario doesn't walk while the ice disappears, he ends up going in the liquid. However, walking on it again makes the ice appear. Frozen Mario turns into Super Mario when being hit by any sort of fire, or after approximately 20 seconds .
The other variation of Ice Mario can shoot Ice Balls, completely the reverse of Fire Mario. Ice Mario could use those to freeze foes, so they'll act as platforms, so Mario could reach things. Frozen foes can also be picked up and thrown away.
Ice Mario looks like the Classic Mario in Mario Bros. The only difference is that the blue is more cyan.
Ice Mario also looks like to Shadow Mario, although the blue is lighter.