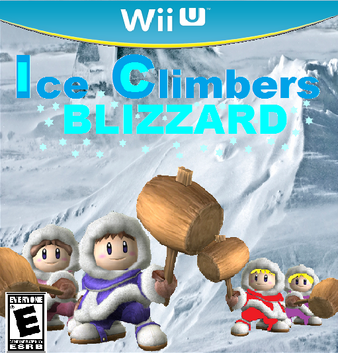 Ice Climbers Blizzard
(known as Ice Climber 2 in PAL Regions) is the sequel to the original game,
Ice Climbers
for the
Wii U
. In this game, the
Ice Climbers
face many new challenges, as well as make some
new friends
.
Story
The Ice Climbers here about this fun new place, called the Mt. Winter Resort. They decide to go and have some fun, and to peruse they're dreams of mountain climbing. They get there, but before they can climb any mountains, a big blizzard hit. They decide to wait until the blizzard is over, and head back to the resort. On they're way in, they bump into some people, who seem to be on their way out. They give them their apologies, then introduce themselves, Nana and Popo. The other two say that they're the Snow Climbers, Rick and Nicky. They ask the Snow Climbers why they are going outside even though there's a big blizzard. The others say that they are Blizzard Climber's World Champions, and that they climb mountains all over the world, blizzard or not. The Ice Climbers think they can do it too, so they challenge the Snow Climbers. They accept, and they start the race!
Characters
The stars of the show, they can do anything, the super Bro. & Sis.! They continue their second journey at the Mt. Winter Resort, and are hiking their way through blizzards, avalanches, and a yeti's cave! Help them scale the mountain before their new rivals win the gold!
The usual Blizzard Climber's World Champions, they are now competing with the Ice Climbers! Can they get to the mountain top first, or will they become snowman lunch?
Worlds and Levels
Snowflake Mountain
1-1: How to Climb
1-2: Snowflake Climb
1-3: Icicle Lake
1-4: Snowy Drifts
1-5: Snowflake Peaks
1-6: Mr. Snowman's Cave
Snowball Mountain
2-1: Snowball Paloza
2-2: Christmas Forest
2-3: Snowing Downfall
2-4: Snowball Foothill
2-5: Snowy Mountaintop
2-6: The Abominable Cavern
More Coming Soon!
Ad blocker interference detected!
Wikia is a free-to-use site that makes money from advertising. We have a modified experience for viewers using ad blockers

Wikia is not accessible if you've made further modifications. Remove the custom ad blocker rule(s) and the page will load as expected.