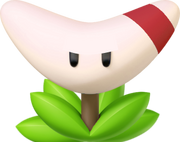 The Homing Boomerang Flower is a special variant of the Boomerang Flower . It has yet to appear in any games and is both more effective and more dangerous for the player.
Abilities
Homing - For the first couple of seconds the Boomerang will target a specific enemy (depends on player's character) and will attempt to hunt down the target
After it loses momentum it will return to its user like a regular boomerang
Homing Boomerangs can be caught by Boomerang Bros , reverting the user to regular Boomerang Flower abilities.
The Homing Boomerang is thrown so it is impossible to jump on, therefore it is dangerous for players fighting a Homing Boomerang Bro.
Appearances
The Homing Boomerang Flower has yet to make an appearance in any Mario games or otherwise. It is one of several Flowers that are inactive.
Trivia
Every User has a different coding for the Homing Boomerang

Mario targets enemies closest to him
Luigi targets enemies furtherest from him
Peach prioritizes fast enemies, then enemies eastmost to her
Toad prioritizes flying enemies, then enemies westmost from him
Homing Boomerang Bro. targets players in this order: 2,3,1,4
Rosalina prioritizes enemies which take multiple hits to defeat, then enemies closest to her
Wario prioritizes enemies with the colours Red, Orange and Yellow on them and the closest among them
Waluigi prioritzes enemies with the colours Green, Blue and Purple on them and the furtherest among them
Toadette prioritizes enemies which take one hit to defeat, then enemies furtherest from her
Gallery
Poll
What's Your Opinion/ What do think would benefit the page most?