Ad blocker interference detected!
Wikia is a free-to-use site that makes money from advertising. We have a modified experience for viewers using ad blockers

Wikia is not accessible if you've made further modifications. Remove the custom ad blocker rule(s) and the page will load as expected.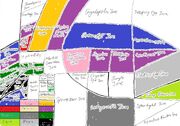 Hill Top Zone did not originate from fanon, and more information can be found on their respective wiki(s). You may read more about it on the following wiki(s):
Hill Top Zone is a zone in the Sonic series. It appeared in Sonic the Hedgehog 2, using its own name, and Sonic the Hedgehog (8-bit) using the alias Sky High Zone.
Hill Top Zone makes another appearance in Sonic Heroes 2. Here, it is bitra-terrestrial; because much of the hills are very high up, they pierce the atmosphere and certain parts of the clouds can be walked on.
The overground itself goes the length from Underground (Tails' Tornado is parked there), goes to its accessible entrance and comes out at Aqua Lake Zone.