Not to be confused with Hammer Egg House, Inc. 
Developer(s)
Publisher(s)
Platform(s)
Release Date(s)
TBA 2012
Mode(s)
TBA
Age Rating(s)
TBA
Genre(s)
RPG, Action-Adventure
Media Included
3DS Game Card
Hammer Egg House
is a game made by
MGC
(t∣b∣c)
. It is an original RPG game. Little is known about it so far, but some information is given
here
.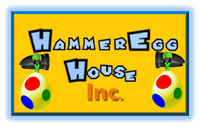 MarioGameChampion (t∣b∣c)
Active: See here.
Cancelled: Yoshi Quest

Lava Path•Hammer Egg House•Superior Mario World•Koopa Kaos

Handheld
Nintendo 4-Screen Tablet•NintenTouch
Console
Currently None

MarioGameChampion (t∣b∣c)•SuperMarioBro64 (t∣b∣c)•SuperDuperMarioKirby (t∣b∣c)•Brockdilley (t∣b∣c)•LightningLuigi93 (t∣b∣c)•Locky'12 (t∣b∣c)•Sr.Wario (t∣b∣c)•SuperToadMan56 (t∣b∣c)•ϞPlazzapϟ (t∣b∣c)

The Fan Corporation•Fantendo•Blargg Fan Club
Ad blocker interference detected!
Wikia is a free-to-use site that makes money from advertising. We have a modified experience for viewers using ad blockers

Wikia is not accessible if you've made further modifications. Remove the custom ad blocker rule(s) and the page will load as expected.