Ad blocker interference detected!
Wikia is a free-to-use site that makes money from advertising. We have a modified experience for viewers using ad blockers

Wikia is not accessible if you've made further modifications. Remove the custom ad blocker rule(s) and the page will load as expected.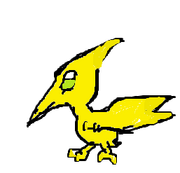 Groydocs are pterodactyls that help out alot. They make their first appearence in Groydocs. Their are a bunch of diffrent colored Groydocs, but the most famous is GroyDoc. They are owned by Zasguar Inc. They're a main source in the Paper Mario series.
Appearences
They appear as the 5th member of the team. There color differs (Like Yoshi In Paper Mario The Thousand Year Door) as you walk throught until it hatches and remains the coor permeanetly. Unlike Yoshi in Paper Mario TTYD, There abilities differ by color.
With Yoshi, They're both the 3rd member recrited which they hatch from an egg at the same time. again they're color differs and now their abilities are the same no matter the color.
Classification
If you are going to recolor or use a GroyDoc. Sign your name here and I might think about it.
Glossary
These are lists of different colored Grodyces