Infomation
Grim Reaper Mario is Mario in a Grim Reaper costume with demon-like powers, such as floating in mid-air. His costume is grey and his face can't be seen while in this form.
Physical Appearance
Grim Reaper Mario has a grey hood with an M on top. He has grey cloth for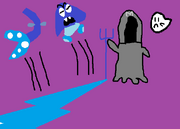 rest of the costume. Also, he has a scythe that he can use to defeat multiple enemies at once.
Game Appearnce
Appears as a Power-Up that Mario can use. Obtained by using the Grim Hood.
Appears as a Playable Character in the Game.