Ad blocker interference detected!
Wikia is a free-to-use site that makes money from advertising. We have a modified experience for viewers using ad blockers

Wikia is not accessible if you've made further modifications. Remove the custom ad blocker rule(s) and the page will load as expected.
Greninja
Universe
Pokemon
Other Super Smash Bros. Appearances
SSB4
Recent Game
'3DS Pokemon X/Y
Availability
Starter
Final Smash
Secret Ninja Art/Dive
Greninja makes its second return to the Super Smash Bros. franchise in Super 5mash Bros. 5. Greninja returns with its water abilities and unique ninja like techniques as well as impressive jumping abilities. Greninja has been buffed slightly in terms of speed and air time making him an ideal for hit and run tactics and aerial surprise attacks. Aesthetically, it is modeled after the Pokken Fighters style.
Changes from Smash 4
Moveset
Special Custom Set A
| | Name | Damage | Description |
| --- | --- | --- | --- |
| Neutral Special | Water Shuriken | 3%-11% (not fully charged), 0.7% (fully charged loop), 9% (fully charged last) | Throws a chargable projectile sideways. |
| Custom 1 | Stagnant Shuriken | 1.0%-1.2% (not fully charged loop), 1.5% (fully charged loop 1), 2% (fully charged loop 2), 3% (fully charged last) | The thrown shuriken stays in place. |
| Custom 2 | Shifting Shuriken | 3% | Uncharged shurikens have strong upwards knockback; charged ones go through opponents. |
| Side Special | shadow Sneak | 10% (normal), 12% (reverse) | Silently prepares a teleportation to a moving shadow, which fires when the button is released. |
| Custom 1 | Intense Shadow Sneak | 15% (normal), 17% (reverse) | Shadow moves slower and farther; attack is stronger. |
| Custom 2 | Speedy Shadow Sneak | 6% (normal), 7% (reverse) | Teleports a fixed distance instantly. |
| Up Special | Hydro Pump | 2% (per shot) | Shoots two water blasts in the opposite direction of travel. |
| Custom 1 | High-Capacity Pump | 0% | More controllable, but does no damage. |
| Custom 2 | Single-Shot Pump | 5% | Only one water shot is fired, which is more powerful. |
| Down Special | Substitute | 14%, 13%, 11%, 13%, 14% (based on timing) | Counters attacks with a teleporting flying kick. The later portion of the move can be a semi-spike or even a meteor smash. |
| Custom 1 | Exploding Subsitute | 10% (close), 8% (far) | Instead of countering, Greninja vanishes and reappears with an explosion. |
| Custom 2 | Substitute Ambush | 18%, 17%, 15%, 17%, 18% (based on timing) | Greninja disappears for longer and hits harder. |
Special Custom Set B
| | Name | Damage | Description |
| --- | --- | --- | --- |
| Neutral Special | Bubble | 9% (middle), 6% (top), 6% (bottom) | Greninja blows a puff of bubbles that travels slightly forward before going upwards. It doesn't deal any damage but they do hitstun thus pushing opponents upwards. |
| Custom 1 | Explosive Bubbles | 6% | The bubbles explode and do damage but do not deal hitstun but knocks opponents upwards. Each bubble pop reduces its size. |
| Custom 2 | Bubblebeam | 1.5% (per hit) | Greninja blows a large stream of bubbles forwards that does damage per hit and has high horizontal knockback; especially at the start up of the attack. |
| Side Special | Feint Attack | 4% (front), 14% (back) | Greninja will roll forward; bypassing opponents and can even bypass projectiles. Greninja will crouch slightly before slashing backwards with waterblades. If he ends up in front of an opponent, it slashes forward and has reduced damage as opposed to appearing behind the opponent which does full damage. |
| Custom 1 | Feint Daze | 6% (front), 8% (back) | Greninja dashes forward much like the default but instead, it will cause emit a dark sphere that will daze an opponent. Hitting in the back does much more damage. |
| Custom 2 | Feint Counter | 11%, 10%, 9% (front based on timing), 14%, 13%, 12% (back based on timing) | Greninja will dashes forward like the default but instead, will strike a pose. If an attack connects, he will slash at the opponent with a water blade. It does more damage in the back compared to the front. |
| Up Special | Acrobatics | 14% (close), 16% (far) | Greninja will jump high into the air with a flip and then crash down with one leg into the ground. It has the added effect of having a slighting homing effect if it can lock onto an opponent during Greninja's traveling. Once it locks in, Greninja flips and then strikes down. He can grab onto the ledge. It knocks opponents up when it lands. |
| Custom 1 | Hasty Acrobatics | 8% (close), 7% (far) | Faster and doesn't have zero lag. It doesn't have the homing effect nor does Greninja flip in the air but just moves high into the air and then comes down. It has less horizontal recovery. |
| Custom 2 | Underhanded Acrobatics | 7% (air), 4% (ground9 | Greninja will launch itself into the air with great horizontal distance. If it makes contact with an opponent, it relaunches itself high into the air though enters into a helpess state. The "foot stool attack" meteors airborne opponents and spikes grounded ones though does less damage. |
| Down Special | Waterfall | 3.5% (descent), 4.4% (push) | RWater will magically cascade down much like Pikachu's Thunder onto Greninja which then splashes and pushes away opponents with hitstun either side. Botht he descent and pushback does damage. |
| Custom 1 | Torrential Waterfall | 5.5% (descent), 6% (impact) | Much faster and does more damage though it doesn't push away opponent when it lands but, instead, causes a watery explosion which does knockback. |
| Custom 2 | Manual Waterfall | 1.5% (descent), 3.4% (push) | It is a bit weaker but a little faster. Holding down special causes the attack to poor down water but letting go of the special causes it to stop. Pressing down special than causes it to go again. it becomes weaker and more laggy the more it is used. |
Final Smash
| | Name | Damage | Description |
| --- | --- | --- | --- |
| Final Smash 1 | Secret Ninja Attack | 2% (snag), 5% (flip), 2% (hits 1-15), 15% (hit 16) | Greninja puts out a mat, and smacks it up, knocking nearby opponents into the air against the moonlight. A silhouette of Greninja appears and rapidly attacks the enemy multiple times before dealing a final blow to knock the enemy back down to the stage. If the mat doesn't hit anyone, then the Final Smash fails. |
| Final Smash 2 | Dive | 2.5% (drowning), 15% (splash) | Greninja halts the entire stage and descends it into water through Dive. It will continuously injure opponents during this attack. Greninja's speed and power all are increased as he swims through the water and deals attacks. Opponents also have a less launch resistance. Finally, at the end of the attack, Greninja causes the water to shoot up; knocking anyone still alive up into the air. |
Taunts
Italics means they have to be unlocked.
Stands on its hind legs and performs a ninja pose. (Up)
Holds out its hands, faces the screen, and summons small sprays of water. The sprays can do 1% damage and produce some knockback, though they're able to KO only at above 420%. (Right)
Bounces on all four likes an actual frog. (Left)
Whips its tongue side to side. (Down)
Character Selection Screen
Greninja cuts his hand outward and water sprays out while saying "NINJA!"
Greninja focuses his hand forward while going "HYAAA!"
Greninja kicks several times before performing a ninja pose.
On Screen Appearance
Releases from a Poké Ball with water spraying out and does a ninja pose.
Appears from a puddle on the ground and does a ninja pose.
Appears as Froakie which then evolves into Froagdier and then into Greninja.
Victory Animations
Performs Double Team to briefly create three afterimages of itself.
Does a few chops splashing water, and then a ninja pose.
Does a flip, and crosses its arms.
Slashes forward several times with his water swords, jumps backwards, and then vanishes.
Greninja strikes a pose and then dashes forward into the camera, kicking it.
Cleans it's eyes with it's tongue.
Losing Animations
Greninja is looking forward, expressionless, while clapping.
Greninja is closing it's eyes and looks defeated.
Greninja has "X" for eyes and his mouth is opened wide like a splattered frog.
Victory Fanfare
A flourished remix of first 0:10 seconds of the song, "Kalos Region Theme".
Idle Poses
Crouches and makes a hand gesture.
Moves arms outward.
Slightly wags its tongue.
Licks its eyes with the tongue.
Trophies
Greninja's trophies can be earned by completing Classic Mode, Adventure Mode, All-Star Mode, and Boss Battle mode. In addition, further trophies can be found during matches and at the Trophy Shop.
Greninja
Unlock: Classic Mode
Greninja (Alt)
Unlock: Adventure Mode Console/Green

Greninja (Alt)
Unlock: Adventure Mode Handheld/Red

Ninja Greninja
Unlock: Boss Battle Console
Tropical Greninja
Unlock: Boss Battle Handheld
'Greninja (Waterfall)
Unlock: Match or Trophy Shop Light Blue
Greninja (Substitute)
Unlock: Match or Trophy Shop White
Greninja (Black)
Unlock: Match or Trophy Shop
Greninja (Purple)
Unlock: Match or Trophy Shop
Greninja (Right) Brown
Unlock: Match or Trophy Shop
Youngster Greninja
Unlock: Complete a Pit Character Challenge
Secret Ninja Attack
Unlock: All Star Mode (Easy or Normal)
Dive
Unlock: Unlock all Robin trophies
Alternate Costumes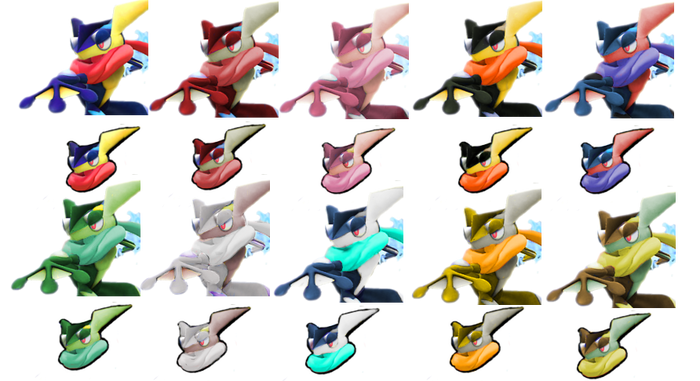 | Color Title | Color | Notes | Status |
| --- | --- | --- | --- |
| Blue | Blue | Greninja's default color scheme. | Starter |
| Red | Red | --- | Starter |
| Pink | Pink | Slightly resembles Licklicky. | Starter |
| Black | Black | Resembles Greninja's Shiny Coloration | Starter |
| Purple | Purple | Resembles Toxicroak, another frog-like Pokemon. | Starter |
| Green | Green | Resembles the coloration of an actual frog. | Starter |
| White | White | --- | Starter |
| Light Blue | Light Blue | Coloration resembles the Poliwraith evolution line, another forg-like Pokemon. | Starter |
| Yellow | Yellow | Resembles an actual Yellow Tree Frog. | Starter |
| Brown | Brown | Resembles an actual toad. | Starter |
| Ninja Greninja | Black | Costume based on the "Ninja warrior" cosplay outfit. | Locked |
| Tropical Greninja | Orange | Costume based on the "Tropical Islander" cosplay outfit. | Locked |
| Youngster Greninja | Yellow | Costume based on the "Youngster Trainer" cosplay outfit. | Locked |
Trivia