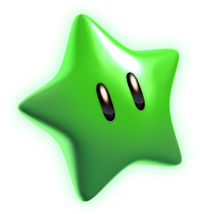 Green Stars are optional collectibles in Super Mario Galaxy and Super Mario Galaxy 2, where they can be found as additional Power Stars. They also appear in Super mario 3D World, as replacements for Star Coins, three of them appearing in each level.
Appearance
They appear as normal Power Stars; somewhat roundy, big stars with eyes in their centre. They have an emerald green colour.
Gallery
Ad blocker interference detected!
Wikia is a free-to-use site that makes money from advertising. We have a modified experience for viewers using ad blockers

Wikia is not accessible if you've made further modifications. Remove the custom ad blocker rule(s) and the page will load as expected.