Ad blocker interference detected!
Wikia is a free-to-use site that makes money from advertising. We have a modified experience for viewers using ad blockers

Wikia is not accessible if you've made further modifications. Remove the custom ad blocker rule(s) and the page will load as expected.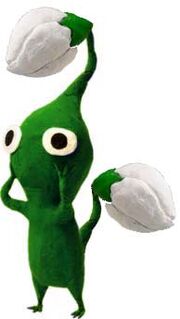 Green Pikmin
are a type of
Pikmin
that can seek items, attack with their tails, and are immune to plant-based attacks while being weak to poison.
Funny Cameo Appearance
Green Pikmin appears in one place in Sonic Speedball RPG II: The Coming of Chaos!. When Sonic, Mario, and the rest of the gang are inside the belly of Giratina the Pokémon, he is the only Pikmin that survives. After Giratina's defeat, Green Pikmin walks of of the mouth. Just then Giratina tries to fly away, but fails and falls on top of Green Pikmin, crushing him but Green Pikmin seems to survive. At the end of the end credits, Green Pikmin is bruised and peddles are falling of him. Then the words, No Pikmin were harmed during the making of this video game! are seen right before a Red Bulborb is seen eating Green Pikmin. The Green Pikmin supposedly fights back as the Red Bulborb is dead the next day.
Pikmin:Alarming Symbiosis
But in Pikmin:Alarming Symbiosis,They are much Lighter and allows gliding on the air.When Gliding,It releases a Very Light Lilypad-Leaf that makes It slowly  and directs on a direction.When to go near a Green Pikmin,you can Activate its Lilypad,control its Direction and Let it Glide or not.The Bad thing of these Pikmin are they are Weak,so use some rienforcements from other Stronger Pikmin.If a Winged Pikmin comes into a Lilypad,it will land on the Leaf.It takes 3 Nectars for it to turn into a Bud Pikmin then 8 Nectars for it to turn into a Flower Pikmin.
| Pikmin name | Abilities/Resistance | Carry | Attack  | Speed | Throw Height | Onion Activation Effect |
| --- | --- | --- | --- | --- | --- | --- |
| Green Pikmin | Glides on Air.Controllable. | 1 If not Gliding,15 if Gliding as Leaf Pikmin,20 if Gliding as Bud Pikmin and 25 if Gliding as Flower Pikmin, | Weak(5) | Very Fast | Very High | Glides on Air. |
Gallery
Trivia
A Green Pikmin makes a cameo appearance in Nintendo Stars:The Beginning. He is in the cutscene shown after Emperor Bulblax is defeated, riding on top of him " rodeo style ". The green pikmin is known to jump on it's tail and can withstand acid.
Green Pikmin need 2 nectars to become full flower Pikmin.
The Green Pikmin is in Super Smash Bros. Collide when Emperor Bulblax is taken down. The battlefield will appear and Louie and Olimar will be escaping and going into a cave. There is a clan of Green Pikmin in the cave. The screen then says, "Olimar and Louie can now pluck Green PIkmin! It acts as a boomerang!green pikmin can saviv in aside.