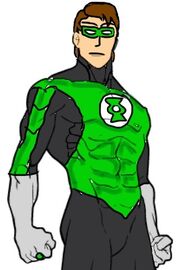 Green Lantern is a fictional DC superhero.
Appearances
Hal Jordan would have became a victim of Darkseid if not for Shazam's interference. The two eventually left and reunited with Superman along with remaining members of the Justice League.
Hal Jordan is one of the main playable characters of a crossover between Lego Batman (hence the title) and Lego Marvel; teaming with his fellow members of the Justice League, the Avengers, Spider-Man, Wolverine, the Thing, Deadpool, and even a group of supervillains lead by Lex Luthor near the end to defeat Hydra.
Trivia
Gallery