Ad blocker interference detected!
Wikia is a free-to-use site that makes money from advertising. We have a modified experience for viewers using ad blockers

Wikia is not accessible if you've made further modifications. Remove the custom ad blocker rule(s) and the page will load as expected.
==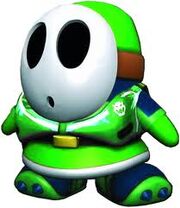 Green Guy appears as
red guys
right hand man and partner to dark guy who also works with posh guy (occasionally) he is one of the main heros in the game.
Appearences
currently in...
shy guy squad anti guy rises
special moves
attack:-punch
jump attack:-slam
double jump:- cannonball
crouch attack:-sweep
run attack:-push over