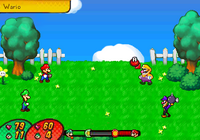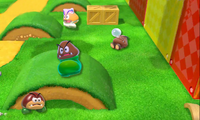 The Goomba Valley is a large valley located in the Mushroom Kingdom, near Toad Town. It is a simple path with various Goombas and pretty flowers and trees. This is the first location, where Mario and Luigi started their adventure in Mario & Luigi: Rivals Quest. It also appears in Koopaling Party, as the first board.
There are only Goombas and their sub-species as enemies, and Goomboss and Wario & Waluigi as bosses. Goomba Valley connects to Toad Town via Warp Pipe and Horlek Fortress via door. Also, this is where Mario and Luigi learn to jump and fight in the game. There's also a hidden Whacka.
Enemies
Ad blocker interference detected!
Wikia is a free-to-use site that makes money from advertising. We have a modified experience for viewers using ad blockers

Wikia is not accessible if you've made further modifications. Remove the custom ad blocker rule(s) and the page will load as expected.