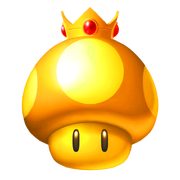 Golden Mushrooms are items that mainly appear in the Mario Kart series, but crownless ones appear in the Mario & Luigi series as powerful items. In Mario Kart, they give Mario multiple speed boosts for a while. In the upcoming game New Super Mario Bros. 2, they give you 50 coins apiece. It is called "Crown Mushroom" in New Super Mario Bros. 5-Star Adventure 2.
Appearances
Gallery
Ad blocker interference detected!
Wikia is a free-to-use site that makes money from advertising. We have a modified experience for viewers using ad blockers

Wikia is not accessible if you've made further modifications. Remove the custom ad blocker rule(s) and the page will load as expected.