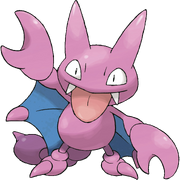 Gligar is a Ground-Flying type Pokémon and is listed as number 207 in the National PokéDex. It flies straight into foes, and them jabs them with its poison stinger. Most Gligar live in mountainous areas. It evolves into Gliscor when it levels up while holding Razor Fang at night.
Ad blocker interference detected!
Wikia is a free-to-use site that makes money from advertising. We have a modified experience for viewers using ad blockers

Wikia is not accessible if you've made further modifications. Remove the custom ad blocker rule(s) and the page will load as expected.