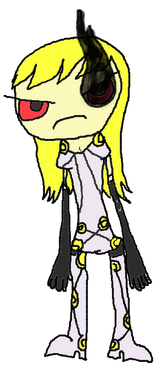 Glaxata is a super-heroine that was designed by Sorastitch. She is a Salohisian from the planet Salohis and first appeared in Milleniumers as a cast character in season two.
Origin
While Salohis was under attack by a unknown darkness, Galaxta found herself on Earth.
Personality
Galaxata is very aggressive and almost never lets her guard down. She gets extremely upset when things don't go her way and does whatever it takes to win.
Powers
She has the powers of flying, magic and flame-marking. She can also enter people's minds.
Ad blocker interference detected!
Wikia is a free-to-use site that makes money from advertising. We have a modified experience for viewers using ad blockers

Wikia is not accessible if you've made further modifications. Remove the custom ad blocker rule(s) and the page will load as expected.