Gible did not originate from fanon, and more information can be found on their respective wiki(s). You may read more about it on the following wiki(s):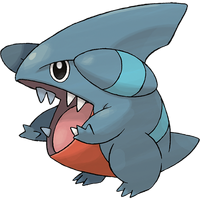 Gible are a dual Dragon/Ground-type Pokémon species that are small, pudgy dragons that possess a large mouth filled with small, sharp teeth. When biting a foe, Gibles have the tendency to accidentally hurt themselves as well. Even though listed as a dragon, it resembles a shark. Gibles are known to be very good diggers, as they dig into mountains looking for shelter. At level 24, Gibles evolve into a Gabite, than, eventually, the Gabite will evolve into a Garchomp at level 48. They were introduced in Generation IV, as the Pseudo Legendaries of that generation.
Base Stats

HP

58
Attack

70
Defense

45
Sp. Attack

40
Sp. Defense

45
Speed

42
Total

300
Ad blocker interference detected!
Wikia is a free-to-use site that makes money from advertising. We have a modified experience for viewers using ad blockers

Wikia is not accessible if you've made further modifications. Remove the custom ad blocker rule(s) and the page will load as expected.